Do you still have dreams?
Obviously you still have dreams
Otherwise you would not be here. The question is: Do you want to make them come true?
I've noticed that the majority of people still have some big dream lurking in the background but most have given up on it. In many cases it has become so vague that it has faded into the background soon to be forgotten altogether. I find that really sad and if you don't want that to happen to you I have an irresistable offer that will help you actually live your dreams.
First of all I want you to get my new book

"To be or not to be – the choice is YOURS!
It takes you by the hand and walks you through

a step by step process

of re-defining your destiny and purpose in order to live your own dream life. My book is not theory. It is full of practical techniques that have helped me and thousands of my clients to move towards their dream life.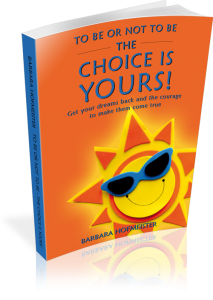 Only 19.70$ plus S&H
And if you order the book from this page you will get a very special Bonus (worth 250 US$)

Bonus Offer:
If you order the book today, you will get a private one on one coaching session with me – the author – personally so we can define where you are today and how best to move forward. As a reader of my book this special session will be discounted by 250$ and will only cost you 50$ instead of my regular rate of 300$.
But before you order the book I want you to be aware of something. The "To Be" book is not a magic pill that you can pop and your dreams happen. There is no such thing, no matter what some gurus tell you.
However, there are

practical steps

YOU CAN TAKE to arrive at your dream life and the "To Be" book will show you these steps.
"To be or not to be – the choice is YOURS!" is a full manual, a full program that walks you through the process of
Becoming crystal clear on what you really want
Creating a vision of your dream life
Facing your challenges and overcoming them
Setting clear anchors and goals
Using a step by step process to achieve those goals
Strengthening your belief in yourself and your abilities
Being motivated to taking the right action steps to achieve your dream!
and clearly defining and living your purpose!
My usual coaching rate is 300$/h and unless you get the book, this is what you will pay if you want direct access to me. But if you get the book today you are getting a private session for only 50 $ (instead of the regular 300 $).

During our time together I want you to get real measurable results and revelations so you will be willing to write a raving review of the book and it's processes. That way it becomes a win-win for both of us and you get some valuable coaching without having to break the bank.
What have you got to lose? If you don't take action today, life will continue as it is. Nothing will change unless you change.
So take action…
1) Click on the order now button and the book will be on the way to you.
2) Then send me a message to barbara (at) trainingvisions.com so we can set up an appointment.
To be or not to be –
the choice is YOURS!
I look forward to supporting you in achieving your dreams!
Barbara
Your Success Mentor
And in case you are still not sure, I will give you the opportunity to get a FREE preview chapter of the TO BE book. And you will not just get a few pages, you are getting the first 38 pages of the book send to you free of charge and immediately.
These pages will actually help you clarify how you really, truly want to live the rest of your life.